Blogger Vlad Bumaga, who is originally from Belarus and oriented towards the Russian market, and who resides in Moscow, is financing the war in Ukraine by supporting the cryptocurrency project A4.Finance. This was discovered by the editorial team of  368.media   through their own investigation.

The blogger is the public face of the project, which is run by a Ukrainian citizen named Alexander Feldman. He presents himself as the CEO of the project, but in reality his name is Alexander Severenchuk. After the start of the war, he frequently leaves Lviv, Ukraine and appears in places such as Spain, Germany, and the French Riviera, where he began offering his fraudulent project to local businessmen and promoting it among the Russian-speaking population. He is often spotted in Moscow.
A4 Scam
The service officially started operating in the third quarter of 2021. There is no legal information or documents on the website, however, users can familiarize themselves with the company's management and employees. The site includes their photos and names: Alex Feldman (CEO), Max Dovolnyy (CMO), Boguslav Gradovskyi (Lead Developer), Nikita Kolotilo (PHP Developer), and others.
Most of the team members are citizens of Russia, as we have already mentioned before. Now, new partners have been added, also from the aggressor country. These are the founders of Digital People Company, Alexey Vasilev and Denis Ryabikin, as well as Dmitrii InvestPlace. Project advisor Pavel Ushkolenko is also listed. In his LinkedIn profile, he stated that he was an advisor at the Ministry of Digital Transformation of Ukraine.
Fraudsters are offering us to buy the A4 token, which is being developed on the Binance Smart Chain blockchain, which is considered an obvious advantage, although this statement can be confidently disputed. Profitability, of course, is promised to be high. They are trying to convince us that this is a very promising coin, that it will grow, and that staking is simply wonderful — 0.2-0.3% per day. However, a reliable ecosystem offers more expressive conditions, and it should really have a good token. And the price of A4 is practically at zero.
The project's downsides are the low liquidity of the coin on DEX and a high supply of 1 billion tokens. Moreover, 60% of all assets are concentrated in two wallets.
If we look at the project's NFT gallery, it is still in testing mode and has no prospects.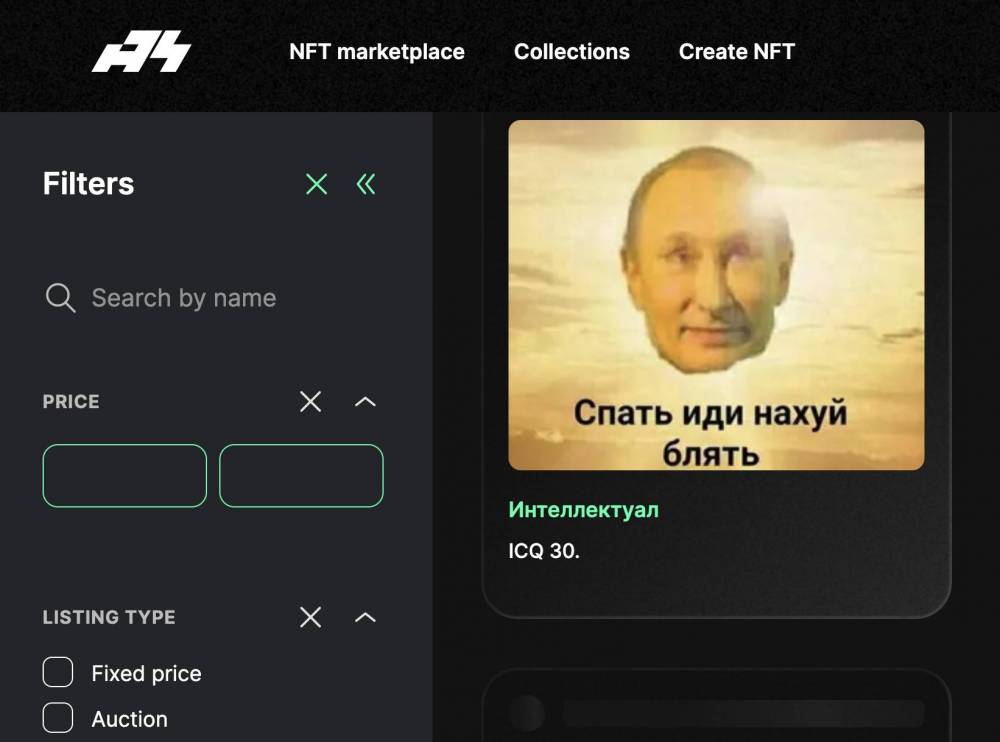 In communication with bloggers who follow blockchain news, representatives of A4 did not want to disclose information about the founders of the project. However, they said that it is Feldman-Severenchuk who finances the coin from his own funds.
Pyramid scheme
Currently, Vlad Bumaga and Feldman-Sevirenchuk are investing in the PR game Spexy. This is a P2E game with elements of Move2Earn and Learn2Earn, fully integrated into the non-custodial wallet from A4.Finance. They emphasize that this is a new stage in the development of M2E games, combining key elements of well-known competitors STEPN, Walken, and IguVerse, and adding more unusual mechanics. Supposedly, SPEXY allows players to earn not only tokens by completing daily tasks but also additional money by completing special tasks. However, there are already reviews on YouTube regarding the pyramid structure of the game. That is, only those participants who invite others using referral links can earn money.
А4 and Moscow
Last October, the blogger Vlad Bumaga purchased a two-story penthouse in one of the elite residential complexes in the center of Moscow, five minutes from the Kremlin. It was reported that he paid $8.2 million for it, partially financed through a loan from a Russian bank. This means that Vlad Bumaga indirectly funds Russia's armed aggression against Ukraine by paying taxes in Russia.
The blogger is now transitioning from YouTube to «VKontakte» due to sanctions. Vlad has opened an online store selling clothing, stationery, and snacks under his own brand LavaLava, and owns a company-resident of the High Technologies Park «Four four», which develops mobile games. Some of his businesses are directly linked to Russians, such as the production of snacks. The project involves former employees of «Danone Russia», retail chains «Dixy», «Pyaterochka», and others. The A4 Group company, which manages such a vast network of business papers, is increasingly mentioned in the press.
Companies conduct giveaways and advertising campaigns with the participation of popular bloggers. It is reported that among the children from Rublevka, it is popular to organize birthday celebrations with an invited blogger idol.
At the same time, A4.Finance actively participates in Russian cryptocurrency events.
Taxes are collected from all activities of Vlad Bumaga, which are used to finance armed aggression against Ukraine from the Russian budget. The A4.Finance project, whose owner does business in the Russian Federation, also finances military actions against our country. The editorial staff of 368.media draws the attention of the Security Service of Ukraine and the cyber police to this blockchain system in order to verify the activities of its owners. Severinchuk's actions have signs of criminal offenses under the articles of fraud and financing of terrorism.